The CCF
Mission Statement:
"The Church and Community Fund aims to grow the Church of England and develop its capacity to engage with the whole community"
Objectives:
By making grants to the national church and local projects the Church and Community Fund will assist the Church of England to:
Strategic Funding Themes:
In 2012 – 2014 the CCF will support projects that:
Significantly expand the Church's engagement with neighbourhood renewal,
Seek innovative ways of developing established community projects so that they either a) grow existing or b) evolve into new communities of Christian Faith, and;
Replicate models of successful community engagement across the wider church.
The CCF awards grants to projects run by local Anglican Churches in England or other organisations who are working in close partnership with the Church of England on the ground.
Background:
The CCF was established in 1915. Formerly known as the 'Central Church Fund', it changed its name to 'The Church and Community Fund' in June 2006 and is now under the trusteeship of the Archbishops' Council (registered charity number 1074857).
In 2010 the CCF gave away around £500,000 to projects that sought to better equip the church to connect with their neighbourhood and beyond. Types of projects supported included the salary costs for youth, children's and community workers, the running costs for homeless centres, conversion of church buildings to enable use by the wider community, funding towards street outreach and many more socially engaging initiatives.
Annual Review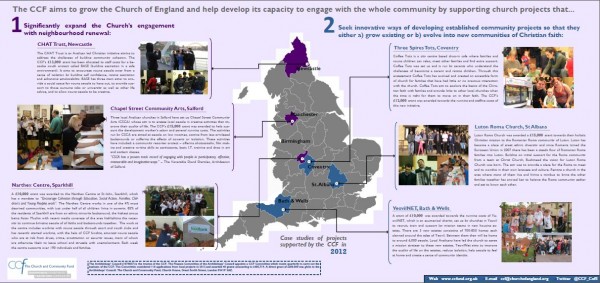 FAQ – Frequently Asked Questions
Click on a category for a list of questions, then click on a question to review answer.
Applying
How do I apply for a grant?
Do I have to apply online?Yes
How much can I apply for?Under themes 1 and 2 grants between £10,000 and £20,000 will be awarded. For theme three grants over £20,000 will be awarded.
When is the next application deadline?Please click here to find out application deadlines and Committee meeting dates.
How long will it take to hear back from the CCF once I have submitted my application?The CCF endeavours to contact applicants within two weeks of receipt of their application. Applicants will be notified if; there are items missing from their application, an application is complete and ready for review at the next Committee meeting or an applicant is ineligible to apply due to failing to meet specific criteria.
Applicant Criteria
Do you support projects based in the whole of the UK or other countries apart from England?No, the CCF can only support projects that are based in England (unless you are applying from a chaplaincy within the Diocese in Europe) due to the funding stream being historically derived from donations made by members of the Church of England.
Does the CCF accept applications from other churches or organisations that are not Church of England/Anglican?The CCF can only accept applications for funding if the applying organisation has sufficiently strong Anglican (Church of England) links on the ground. Examples of strong links are co-managing a project with an Anglican church, Trustees of an organisation are members of the Church of England or an Anglican church is a principle funding partner to the project. The CCF encourages ecumenical cooperation on community projects and are happy to receive applications that involve the Church of England working in partnership with other denominations.
Re-applying
My project was rejected by the CCF last time I applied, can I apply again?The CCF does not allow repeat applications until two years after the original application decision date. I.e. if your application was unsuccessful on the 16th June 2011 (Q2 2011) then you could not apply again until the submission period before the Q3 2013 Committee meeting.
I have already been awarded a grant from the CCF may I apply again to get another grant?Previous applicants must wait two years before reapplying to the CCF. Applicants may apply for a follow up grant for the same project, however the Committee prioritises applications from new projects. No preference is given to previous applicants.